Events Around Indiana
There are many great literary events around Indianapolis and beyond.  Looking for something to do?  Here are just a few ideas:


Welcome to our new home!
We can't wait to show you our new space! Mark your calendar for

this

Friday, February 2, 2018

  at 6-9 PM-and join us at the CCIC to celebrate this new era of the Indiana Writers Center.


Come see the new Indiana Writers Center, and mingle with teachers, members, writers, staff, volunteers, and IWC Board. The rest of the building will also be open for First Friday, so there is plenty to see and explore.

Brews provided by Centerpoint Brewing.

We will have Poems on Demand from the InterUrban Poets, ""Love poems, birthday poems, poems for any occasion," for a donation to IWC.

Music by singer/songwriter Nick Ivanovich www.nickivanovich.com.



Directions to the Indiana Writers Center:


The Indiana Writers Center is located at 1125 E. Brookside Ave., Ste. B25.
We have just moved in, and signs and directories have not yet been installed. The entrance is the large black granite entrance on Brookside Ave. When you enter the building, take the hallway to the right. We are in the first corner. Free Parking is in the large fenced in lot directly across the street.
Get directions to our location via Google Maps:
https://www.google.com/maps/dir//39.782621,-86.135858/@39.782621,-86.135858,17z?hl=en-US

Bus Riders: IndyGo Lines 10 and 21 make stops within walking distance to the Circle City Industrial Complex. Plan your route: https://www.indygo.net/






Uncle Dan's Movie Night


Tuesday, January 30 @ 6-9 PM
The Jazz Kitchen
5377 N. College Ave, Indianapolis, 46220

Film, Talk, Music!
New York in the Fifties, the documentary film based on Dan Wakefield's memoir and produced by Betsy Blankenbaker, will be shown at The Jazz Kitchen Tuesday, Jan. 30. The film features Joan Didion, James Baldwin, Gay Talese, David Amram, William F. Buckley, Norman Mailer – and Wakefield, who will be there to answer questions after the screening.

Steve Allee, the jazz pianist/composer who wrote the music for the film, will be there in person to play songs from the 'fifties, along with star saxophonist Sophie Faught.
$18/Ticket
Go here to purchase:  https://www.ticketfly.com/purchase/event/1609222


Bookmamas


https://bookmamas.indielite.org
9 Johnson Ave, Indianapolis, IN 46219


New date!


Book Club Meeting
Wednesday, January 31,  7 PM


We will be discussing Slinging Doughnuts for the Boys: An American Woman in World War II with special guest author James Madison.  Everyone is welcome.
 



Kurt Vonnegut Short Story Reading Series & Discussion
Wednesday, January 31 at 6 PM - 8 PM
Indianapolis City Market, 222 E Market St, Indianapolis, Indiana 46204
Free and Open to the Public, but you need to get a ticket
Tickets Available
https://www.eventbrite.com/e/kurt-vonnegut-short-story-reading-series-and-discussion-tickets-39448551680

Spark Placemaking in partnership with the Kurt Vonnegut Museum and Library is hosting a monthly short story reading and discussion Each month a different story will be selected out of Kurt Vonnegut's collection of short stories; "Bagombo Snuff Box"   Each discussion, facilitated by Chris Lafave, will be held at City Market's Mezzanine level near the Tomlinson Tap from 6-8pm. Enjoy a beer at The Tomlinson Tap which will be open during discussion period!

Stories are as follows:
Thanosphere
Any Reasonable Offer
Souvenir
Limited copies available and for sale at The Kurt Vonnegut Museum and Library. Copies also available at your local library and your local book store. Bring your EventBrite receipt in to the library .
 



Poetry on Brick Street


https://www.facebook.com/poetryonbrickstreet/

Featuring Alessandra Lynch
Thursday, February 1  7 PM
SullivanMunce Cultural Center

225 W. Hawthorne St., Zionsville, IN


Our featured poet, Alessandra Lynch will read from her new book, Daylily Called It a Dangerous Moment, which was published this June by Alice James Books. Alessandra Lynch is also the author of Sail the Wind Left Behind and It was a terrible cloud at twilight. Her work has appeared in the American Poetry Review, Antioch Review, The Colorado Review, The Cortland Review, The Massachusetts Review, Ploughshares, and other literary journals.

Alessandra was born on the East River and now lives with her husband and sons by a stony creek, two hackberry trees, and a magnolia trio. She teaches in Butler University's undergraduate and MFA programs.
Vivian S. Delbrook Visiting Writers Series/Butler University
https://www.butler.edu/vws
Kazim Ali
Thursday, February 1, 7:30 PM
Eidson-Duckwall Recital Hall

Kazim Ali's books include several volumes of poetry, including Sky Ward, winner of the Ohioana Book Award in Poetry; The Far Mosque, winner of Alice James Books' New England/New York Award; The Fortieth Day; All One's Blue; and the cross-genre text Bright Felon. His novels include The Secret Room: A String Quartet, and among his books of essays is Fasting for Ramadan: Notes from a Spiritual Practice.
Ali is an Associate Professor of Creative Writing and Comparative Literature at Oberlin College. His new book of poems, Inquisition, and a new hybrid memoir, Silver Road: Essays, Maps & Calligraphies, are scheduled for release in 2018.


John Sherman Exhibit Opens at The Harrison Center

"Nigeria On My Mind, Again"
February 2  6 to 9 PM
"Nigeria On My Mind. Again." will be the title of an exhibition by writer/photographer John Sherman of Indianapolis at the Harrison Center for the Arts from February 2 to 22. In the exhibition will be photos from the two times Sherman lived in Nigeria, as a Peace Corps Volunteer teacher, 1966-67, and as a member of an International Committee of the Red Cross food/medical team, 1968-69, during the Nigeria/Biafra Civil War. Also on display will be his Nigerian chief's regalia, rare war-time ephemera collected by Sherman, a video of the opera, Biafra (he is the librettist), excerpts from his book, War Stories: A Memoir of Nigeria and Biafra, and other writings, including his essay that also is the title of the exhibition.
Go here to read the Media Release about this Exhibition.
The Writers Guild at Bloomington
https://writersguildbloomington.com/

Fountain Square Poetry Series
February 2 @ 5:30 pm – 7:30 pm
Fountain Square Mall Atrium
Free Admission and Free Raffle
Featuring poets Abegunde, Michael Dauro, Rachel Gray, and Patsy Rahn

Maria E Hamilton Abegunde is a Memory Keeper, poet, ancestral priest in the Yoruba Orisa tradition, and a Reiki Master. Her research and creative work respectfully approach the Earth and human bodies as sites of memory, and always with the understanding that memory never dies, is subversive, and can be recovered to transform transgenerational trauma and pain into peace and power. Her current work focuses on violence and healing in Juba, South Sudan and the United States


Michael Luis Dauro is a CantoMundista living in Bloomington, Indiana. He is a Millay Colony Resident Artist, Ruth Lilly Poetry Fellowship finalist, and a Pushcart Prize nominee. His work has also appeared in As Us, StoryScape, Rattle, Sonora Review, Phantom Drift, and others. Michael is a graduate from the MFA Program in Creative Writing at IU. He's totally legit non-ironically into spaghetti westerns and pro wrestling.
Rachel Ronquillo Gray was born and raised in rural Nevada, and holds an MFA from Indiana University. She is a Kundiman and Pink Door fellow, as well as an alum of VONA and Las Dos Brujas. Her work has appeared in Puñeta: Political Pilipinx Poetry, Digging Through the Fat, Winter Tangerine Review, Radar Poetry, As/Us, Lantern Review, and other places. She currently lives, writes, and makes lots of food in Bloomington, Indiana.
Patsy Rahn is a poet and prose writer. She trained as a dancer in New York City and at the National Ballet School in Toronto. She worked for many years as an actress in Toronto, New York, and Los Angeles. Her writing has been published in academic journals and various literary publications. She has given poetry readings in Toronto, Los Angeles and Bloomington. Patsy has been a reader for the radio shows Books Unbound on WFHB, and Anthology on WFIU. She is a founding member and chairperson emerita of the Writers Guild at Bloomington and works at the IU Eskenazi Museum of Art.


First Sunday Prose Reading and Open Mic
Sunday, February 4, 2018 @ 3:00 pm – 5:00 pm
Monore County Public Library room 1C, Bloomington
Free/Come early to sign up for Open Mic!


Molly Gleeson spent seven years teaching English overseas in China, Saudi Arabia, and Japan, where she started writing. She is enjoying being home, however, and currently works as a writing tutor at a community college in Bloomington, Indiana. She has been published in Brush Talks, The Sun, The Apeiron Review, The Voices Project, Work Literary Magazine, Way Beyond Borders, among others. She was featured in the podcast The Drunken Odyssey with John King, and was published in the anthology (T)here: Writings on Returnings.

Maureen Chinwe Onyeziri is a doctoral student in Microbiology at Indiana University but dabbles in creative writing when she is not busy studying how bacteria do what they do. An international student from Nigeria, she enjoys writing short fiction and has been published and is forthcoming in several journals and anthologies. She considers writing as therapy, a way to help her escape the often grueling and devastating realities of living in an imperfect world. Her writing cuts across several genres but these days, she finds herself returning to African speculative fiction. She also writes about mental health issues and is a contributing writer for Mentally Aware Nigeria Initiative (MANI), Nigeria's largest youth-run and youth focused mental health organization aimed at fighting the stigma surrounding mental health issues and providing valuable resources for those who struggle. She considers herself an old soul and hopes to author a novel someday, in addition to doing remarkable science.

Cara Hohlt enjoys a well-written sentence fragment nearly as much as a piece of Lindt dark chocolate. She writes poetry and short fiction and has been published locally as a winner in two fiction contests: "Ahmed's Spring" appeared in The Ryder in 2014 and "The Spinnets Weather a Storm" in Bloom in 2011. Bloomington has been her home for twenty-six years

Kelly Writers Series/DePauw University
https://www.depauw.edu/academics/departments-programs/english/visitingwritersseries/srping-2018/

Nate Marshall
Wednesday, February 7 at 7:30 pm
Peeler Auditorium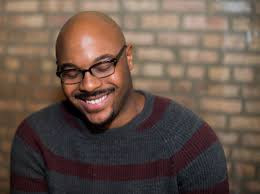 Nate Marshall is from the South Side of Chicago. He is the author of Wild Hundreds and an editor of The BreakBeat Poets: New American Poetry in the Age of Hip-Hop. Wild Hundreds has been honored with the Black Caucus of the American Library Association's award for Poetry Book of the Year and The Great Lakes College Association's New Writer Award. His last rap album, Grown came out in 2015 with his group Daily Lyrical Product. Nate is a member of The Dark Noise Collective. He completed his B.A. at Vanderbilt University and an M.F.A. at The University of Michigan's Helen Zell Writers' Program. Nate has received fellowships from Cave Canem, The Poetry Foundation, and The University of Michigan. He is the Director of National Programs for Louder Than A Bomb Youth Poetry Festival and has taught at The University of Michigan, Wabash College, and Northwestern University.
Indy Reads Books


http://www.indyreadsbooks.org/events/
911 Massachusetts Ave, Indianapolis, Indiana 46202

ArtSpeak presents : Theon Lee


Thursday, February 8 at 7:30 PM - 9 PM


ArtSpeak dives deep into the mind of the artist through intimate creator conversations. Our free monthly event aims to introduce the person behind the artist, tell their story, and share why they do what they do.

Kicking off our 2018 season is Theon Lee, an Indianapolis-native performance artist with expertise in the fields of hip hop (as an emcee), poetry (in spoken word), and folk (as a vocalist/guitarist/songwriter). Since 2010, Theon has performed to diverse crowds across the Midwest region.
 

Teresa Vazquez and FC9 Gallery Host "LoveLit: Poems" Poetry Night
 
Friday, February 9th, 7-9pm February Featured Artist Teresa Vazquez will host a Poetry Night at the Full Circle Nine Gallery (FC9), as part of her "LoveLit" event.
Tickets are $5.
 
LoveLit: Poems will feature poetry by Maria Hamilton Abegunde, and Bekah Pollard,as well as by Vazquez, and will offer a love-themed open mic opportunity.
 
Full Circle Nine Gallery, LLC
South Studios, Circle City Industrial Complex
1125 Brookside Ave. Ste. B23
Indianapolis, IN 46203
www.fullcirclenine.com
(317) 672-7253